Description from Publisher


The Prince of Egypt (DVD)


The Prince of Egypt (VHS)
Nearly every biblical film is ambitious, creating pictures to go with some of the most famous and sacred stories in the Western world. DreamWorks' first animated film was the vision of executive producer Jeffrey Katzenberg, a key architect in the Disney studio's rebirth (The Little Mermaid, Beauty and the Beast, The Lion King, etc.).

Here is an Egypt alive with energetic bustle and pristine buildings. Born a slave and set adrift in the river, Moses (voiced by Val Kilmer) is raised as the son of Pharaoh Seti (Patrick Stewart) and is a fitting rival for his stepbrother Rameses (Ralph Fiennes). When he learns of his roots--in a knockout sequence in which hieroglyphics come alive--he flees to the desert, where he finds his roots and heeds G-d's calling to free the slaves from Egypt.


Description from Amazon.com


The Beginners Bible Old Testament Favorites CD-ROM :

Noah's Ark, Moses and David Activity Centers
Your favorite Old Testament Bible characters come to life in this CD-ROM for children and adults. The Beginner's Bible features activities based on three beloved Bible stories and star characters from the "Beginner's Bible", the best selling children's Bible in the world. The benefit of the Brighter Child's CD-ROM version of The Beginners Bible is that children actually interact with the beloved Bible characters as they learn the important Biblical lessons. The activities that come with the program are impressive and relevant for young children. Adults love working with their children on the activities as well. "The Old Testament Favorites" includes the following stories and activity centers; MOSES IN THE LAND OF EGYPT, Moses in the Land of Egypt is an interactive storybook featuring the story of Moses plus more than 30 video clips from the Sony Wonder animated video, 18 Storybook Pages, 6 interactive games, 6 Coloring Pages, and a Sing-A-Long Song. The result is more than a computerized video. The activities and song assure that all children will return to the program time and time again. NOAH'S ARK ACTIVITY CENTER, Noah and his family are very busy following God's instructions on how to prepare for the great flood. Join them as they get ready. Help Noah Build the ARK, Shop for supplies and Gather the Animals in a series of 8 fun and educational activities and 6 printable arts & crafts projects. YOUNG DAVID ACTIVITY CENTER, God has chosen a young shepherd boy to become the new king of Israel. Help David on his way with 6 fun activities including, Target Practice, Find the Stones and sing along with three original songs "Goliath," "Best Friends," and "Great Big Beautiful Heart."


Description from Publisher


The Story of Moses

By Bill Yenne
A simple re-telling of the story of how G-d used a burning bush to call Moses to lead the Israelites out of Egypt.


Description from Publisher


Moses' Dry Feet

By Joan E. Curren
This book retells the story of Moses' crossing of the Red Sea through fun-to-read rhymes and bright illustrations.


Description from Publisher


Exodus from Egypt

By Mary Auld
[Auld] chronicles the dramatic events from the arrival of Moses and Aaron before Pharaoh through the Israelites' escape through the Red Sea. Because it concentrates on one section of Moses's life, it will be accessible to young readers.


Description from School Library Journal


Exodus

By Brian Wildsmith
This is the story of how one man led his people out of slavery to a land that G-d had promised to give them. His name was Moses.

With vivid, richly detailed illustrations, Brian Wildsmith captures all the major events of one of the greatest stories in the Bible. The story of the Exodus and the rescue of the Hebrews from slavery in Egypt is a powerful and exciting tale which attests that G-d's guiding hand is always evident.

In Wildsmith's hands, this familiar journey comes alive against stunning backdrops -- from the great palaces of ancient Egypt, to the vast expanses of Sinai's mountains and wilderness, to the peaceful place G-d's people can finally call home.


Description from Publisher


The Story of Miriam and Baby Moses

(Board Book)

By Patricia A. Pingry
This little board book tells the story found in Exodus of Miriam's courage in the face of danger to her brother Moses. Here is the hiding of baby Moses, his discovery by Pharaoh's daughter, and the triumphant exodus from Eqypt. Parents can use this little book to introduce the figure of Moses to a child and discuss Miriam's courage.


Description from Publisher



Miriam and Baby Moses
(Board Book)

By Alice Joyce Davidson
Children ages 4 and under will adore these colorful, sturdy board books. Each specially shaped, die-cut book offers bright, four-color illustrations and rhyming verses that make favorite Bible stories come alive to young minds.

Miriam had a brother: Moses was his name. Her brother was in danger and the Pharaoh was to blame. Miriam's baby brother, Moses, had a special destiny, so G-d helped Miriam protect Moses from the wicked Pharaoh. G-d has something special for each one of us to do as well, and wonderful ways of seeing that we fulfill it!


Description from Publisher


Moses & the Pharaoh
(Board Book)

By Alice Joyce Davidson
Children ages 4 and under will adore these colorful, sturdy board books. Each specially shaped, die-cut book offers bright, four-color illustrations and rhyming verses that make favorite Bible stories come alive to young minds.

G-d told a man named Moses "Do this right now for me-- Go and tell the Pharaoh He must set My people free." Children learn about G-d's miraculous love and care in this story of Moses leading the people of Israel out of Egypt.


Description from Publisher


The Prince of Egypt

By Jane Yolen
First in the DreamWorks Classics Collection®, this big, beautiful storybook is the best way for fans to recapture the magic and grandeur of The Prince of Egypt. Acclaimed author Jane Yolen provides a powerful, finely crafted retelling, that matches the sweep of this groundbreaking film. Each essential scene, from Moses' fateful journey in the basket to the wondrous parting of the Red Sea, is richly retold and stunningly rendered in a storybook that is a fine stand-alone as well as a splendid companion to the film. Adventure, sorrow, mischief, and miracles-all the elements of an epic tale are transferred from screen to page for collectors or any reader to cherish.


Description from Publisher


Moses in the Bulrushes

(Board Book)

By Kath Mellentin
Classic Biblical stories, long-time favorites of young children, are presented in interative dimension in these multiple format interactive books. There's something new and different on every spread--a pop-up, a pull tab, a lift-the-flap, a changing picture, and a double gatefold. With simple texts and bold illustrations, these cleverly designed books perfect for every little reader.


Moses and the Ten Commandments

By Victoria Parker
This accessible series provides an informative and accessible means of finding out all about the Bible stories and why the Bible remains so important.


Description from Publisher


The Adventures of Moses

By Andy Robb
Familiar Bible stories come to life as children move the cut-out figure of Moses from page to page. The figure is securely attached with a ribbon and pops back into the front cover. Each page also features an action flap to flip.


Description from Publisher


Moses, Take Two Tablets and Call Me in the Morning

By Mike Thaler
Five stories based on incidents taken from the Old Testament and written in a humorous way.


Description from Publisher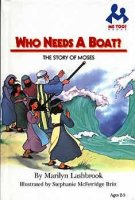 Who Needs a Boat :
The Story of Moses

By Marilyn Lashbrook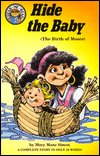 Hide the Baby
Exodus 2:1-10, the Birth of Moses

By Mary Manz Simon
Retells for beginning readers the events surrounding the birth of Moses.


Description from Publisher


Little Girl Named Miriam

By Dina Rosenfeld
Young Avraham and Dovid, Little Rivka and Miriam showed their greatness at a very early age. Highlighting the exceptional qualities of these four Jewish heroes can encourage children to be brave, seek truth and display kindness.

Clever and brave, little Miriam is a true Torah heroine. When King Pharoh wants to take all Jewish baby boys away from their families, Miriam watches her own baby brother and finds a way to keep him at home.


Description from Publisher

Miriam is a little girl who loves to help her mother in her work as a midwife for all the babies born to the Jews in ancient Egypt. When the wicked Pharaoh declares that all new baby boys will be destroyed, Miriam speaks up and when her own baby brother needing help she immediately comes to his rescue. Written for young readers ages 2 to 5, A Little Girl Named Miriam is a wonderful picturebook based upon a great Torah heroine. Diana Rosenfeld's lively retelling of the Biblical account is enhanced with additional background derived from the Midrash and the impressively colorful artwork of Ilene Lederer. A Little Girl Named Miriam is fun to read and very highly recommended picturebook for family, school and community library collections.


Description from Children's Book Watch


Moses in the Bulrushes

(Board Book -- "Picture Window Book")

By Henrietta Gambill
When we are worried and we feel alone, we can remember baby Moses and the G-d who never left him but was always watching over him to keep him safe!.


Description from Publisher


Ten Plagues of Egypt

By Shoshana Lepon
A fabulous book to give to children before Pesach. The Ten Plagues of Egypt retells the biblical account of the ten plagues in lively rhyming verse, enhanced by brilliantly colored illustrations. It's also a great learning tool and is used in many schools. The back of the book contains helpful questions for review and a clever "Did you know?" page.


Description from Publisher


Thank You, Moses

By Charlotte Lundy
Brad feels he cannot complete his science-fair project on time, and he would rather quit than try and fail. His father tells him the story of Moses, and inspired by this tale, Brad begins work, finishes the project two days early, and wins first place in the fair.


Description from School Library Journal


Where Is Moses
Sliding Picture Book


A Basket Bed for Baby Moses :
A Surprise Flap Book

(Board Book)

By Alice Joyce Davidson
Lift-up flaps add fun and surprise to this favorite children's Bible story, retold in rhyme.


Miriam, Moses' Sister

By Theresa Morin


Sticker Book:
The Story of Moses

By Graham Round
A fun, follow-the-story activity booklet that teach through active involvement. Seventy reusable stickers, pictures to be colored, verses to look up, and hidden pictures to find make these activity booklets an exciting way to follow Bible stories.


Description from Publisher


Noah, Moses, King Solomon and Me

(Book & CD-ROM)
Children will love reading these favorite Bible stories and will delight in seeing "themselves" throughout each book. Included in the books are perforated sticker pages and a CD-ROM (Windows and Mac compatible) to use in personalizing the book. In addition to the personalization feature, the CD-ROM offers electronic activities that relate to the Bible stories, including games, puzzles, mazes, word searches, and coloring pages, plus an extra "fun pack" for creating personalized bookmarks, bookplates, stationery, and more.


Description from Publisher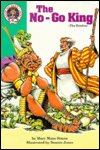 The No-Go King :
Exodus 5-15

By Mary Manz Simon
Simple retelling of the Bible story in which Moses leads the children of Israel out of slavery in Egypt


Description from Publisher


Where is Moses?
(Board Book)
This sliding board book incorporates a simple and effective mechanism that maximizes interest and learning. Children follow the simple text that leads them to slide the page out to reveal the next portion of the Bible story. Teaches seven stories about Moses's family, his encounters with G-d and how he helped to free the Israelites.


Description from Publisher


Moses in the Bulrushes

By Heather Amery

Nobody Knew but God! :
Miriam and Baby Moses (Me Too!)

By Marilyn Lashbrook


Moses Leads His People
(Board Book)

By V. Gilbert Beers


Moses and the Ten Plagues

By Hodges


Story of the Ten Commandments / La Historia de los Diez Mandiamentos

By Patricia A. Pingry
This little book, of only 260 words, tells through art and simple text, the story shows Moses talking to God on the mountaintop and God writing the Commandments on stone. The story then shows how we still follow those commandments today.

The Ten Commandments themselves are repeated, in words that make the concepts easier for a child to understand. Through The Story of the Ten Commandments, parents will be able to introduce the concept of rules to the young child, and the delightfully bright watercolors make this a fun book young children will love.

This bilingual book for children tells about Moses and the 10 Commandments. Each two-page spread features delicate watercolor art with the English text on the left and the Spanish text on the right.


Description from Publisher


Moses in the Bulrushes

By Diana Mayo
These retellings of Bible stories follow the original closely. The language is easy to understand and the text is inviting for children to read themselves. Attractively designed, the books feature bright, realistic watercolor illustrations on lots of white space and characters that look to be Middle Eastern. The art captures the emotions and the period. Moses ends with the "Burning Bush" and before the "Exodus" but the other two books tell the stories in their entirety. Notes give further information and discussion questions.


Description from Library Journal


Journey of Baby Moses

(Story from The Prince of Egypt)


Miriam's Gift

(Story from The Prince of Egypt)
Moses' courageous and spirited sister Miriam is the heroine of this picture book retelling. The story and keepsake charm pay tribute to Miriam's gift of faith and her belief that one day her brother would help set their people free. The book tells Moses' story from Miriam's point of view as she anxiously follows his basket down the Nile and then waits hopefully for his eventual return. The beautiful bronze pendant of baby Moses in the basket is a symbol of her devotion, and it provides readers with an opportunity to role-play Miriam, as well as Moses' mother, Yocheved, and the Queen. A journal space at the end of the book invites readers to record their own promises to family and friends. Brave and loyal Miriam will appeal to all children, but especially girls. By wearing the keepsake charm and necklace, readers will be reminded each day of Miriam's powerful story and its valuable message of courage.


Description from Publisher


Miriam Watches Baby Moses :
A Story of Faith and Obeying G-d

(Story from The Prince of Egypt)

By Mary Manz Simon
A Story of faith and Loyalty. Miriam is determined to protect her baby brother, Moses. Miriam's story shows how great things can happen when we truly trust G-d and remain loyal to our family and friends. Ages 4 to 8.


Description from Publisher


Moses and the Burning Bush :
A Story of Faith and Obeying G-d
(Story from The Prince of Egypt)

By Mary Manz Simon
Moses encounters a strange sight in the desert - a bush that burns but is not consumed. G-d uses this to teach Moses how obedience to G-d can make a difference, not just in one life, but in the lives of thousands.


Description from Publisher


Moses Crosses the Red Sea :
A Story of Faith and Courage
(Story from The Prince of Egypt)

By Mary Manz Simon
Courage is the focus. For it is only through courage and faith in G-d that Moses will help the Hebrews escape from Egypt and lead them across the Red Sea.


Description from Publisher

This retelling of the exodus of the Hebrews from Egypt is a book version of the animated movie, "The Prince of Egypt." An exceptional animation, the artwork translates well to book form. We are informed that the Hebrews were slaves in Egypt and that Moses was the one chosen by God to deliver the Hebrews out of Egypt. Moses repeatedly requested of Pharaoh that they be allowed to leave, but it took numerous punishments sent by God to convince the Pharaoh to allow this to happen. The staff Moses carried was used on two occasions to perform miracles as the Nile turned to blood and Red Sea is parted, allowing the Hebrews to escape the Pharaoh's soldiers. The book is part of the "Timeless Values" collection, and the study questions following the text explore the concept of courage and how it is relevant in this story.


Description from Children's Literature

We just gave this book to our Grandchildren tonight for Chanukah. As I read it to our Grandchildren they were held wide-eyed in their places. The anticipation of seeing this at the movies is evident in every commercial that flashes across our television. But of all the artistry this book delivers, it is the questions at that back of this book that earns its five stars. Questions on Courage, Moses' and their own. Questions about other Biblical heroes that showed tremendous courage against all odds, which causes them to think beyond the story . A book that causes a child to actually think. A welcomed addition to any home library.It will challenge you , your children and cause you to look a little deeper into your spirit.


Description from Amazon.com Customer Review


The Prince of Egypt A to Z

By Eric Metaxas
Moses' life was full of inspiration and adventure. Now kids can learn about the people, events, and themes of Moses' life through this rhyming tour through the alphabet. Each page features breathtaking art from the DreamWorks animated film, The Prince Of Egypt. Each page includes a delightful verse by best-selling author Eric Metaxas, whose delight in wordplay appeals to kids and grown-ups alike.


Description from Publisher


The Prince of Egypt Read-Along

By Andre Mika,
Jeff Goldblum (Narrator)
From the thrill of a chariot race to the drama of the Hebrews' Exodus from Egypt, this full-color storybook and accompanying cassette capture all the emotional and dramatic high points of The Prince of Egypt. More than just a read-along, the cassette contains majestic background music, songs, sound effects, and actual dialogue from the film that enhance the storytelling experience. Narrator Jeff Goldblum, the voice of Moses' brother Aaron in the film, reads the full story as it appears in the text. Ideal for private reading time, young readers can practice their skills as they follow along in the book. At the same time, the music, dialogue, and sound effects recreate the drama of the story--making this a listening experience that the whole family can enjoy together.


Description from Publisher


Through Heaven's Eyes :
The Prince of Egypt in Story and Song by Stephen Schwartz
Honoring many talents behind the movie, this deluxe hardcover storybook is the perfect choice for gift-givers, music lovers, and collectors. Hauntingly lovely paintings by DreamWorks' own studio artists recreate favorite scenes from the film. Perfect to share aloud with a young child, the text is a faithful retelling of the Moses story, interweaving graceful narrative segments with full lyrics from all of the film's unforgettable songs. An introduction by Academy Award-winning lyricist Stephen Schwartz reveals the inspiration behind his enduring songs while giving fans a glimpse at the personal side of this amazing talent.


Description from Publisher


Moses and the Great Escape
(Sticker Story Adventures)

By Terry Whalin
Follow Moses as he escapes the wrath of the Egyptians in this panoramic sticker book. 40 reusable stickers. Die-cut window.


Description from Publisher


The Beginners Bible :
Moses

By Sam E. Gato
The story of Moses with sound effects.


The Life of Prince Moses

(Story from The Prince of Egypt)


Moses

By Anne De Graaf


Moses

By Katy K. Arnsteen
Retells the Bible story of how Moses was brought up by the Pharoah's daughter and later followed G-d's command to lead the Israelites out of Egypt.


Description from Publisher


Adopted for a Purpose :
Bible Stories of Joseph, Moses, Samuel, and Esther

By Pauline Youd
Presents the Bible stories of Joseph, Moses, Samuel, and Esther, all of whom were taken from their natural parents and raised by someone else.


Description from Publisher


Moses of the Bulrushes

By Catherine Storr
Retells the story of Moses leading his enslaved people out of Egypt.


Description from Publisher


Moses and the Plagues

By Catherine Storr
G-d sends plagues upon the Egyptians for not allowing the Israelites to leave Egypt under the leadership of Moses.


Description from Publisher


Moses in the Wilderness

By Catherine Storr
After the last of the plagues which G-d had sent the Egyptians, Pharaoh told the children of Israel to leave Egypt as soon as they could. They took jewels of gold and silver from the Egyptians. 'Go quickly, ' the Egyptians said, 'or we shall all be dead men.' The Israelites left at once. They took their bread dough with them without waiting for it to rise, so it was unleavened bread. By day they followed a pillar of cloud, and by night a pillar of fire.


Description from Publisher